Cells
Gamry has electrochemical cells for general, as well as specific, experiments. We design as much flexibility as we can into each cell without compromising the cells ability to perform needed tasks.
Product Category: Potentiostats
Industry: Electrochemistry
Supplier: Gamry
Description
Dr. Bob's Cell™

Dr. Bob's Cell is our smallest electrochemical cell kit, with operational volumes of 1-30 mL. Enzyme and catalysis studies, development of electrochemical sensors, basic research into battery mechanisms, and determination of redox potentials of inorganic complexes represent a few of its many applications.

EuroCell™ Electrochemical Cell Kit

The EuroCell is a general purpose electrochemical cell. Standard kit is for corrosion measurements, but a rotated electrode kit is also available for rotated disk, ring-disk, and particularly cylinder experiments. The EuroCell is available in both a non-jacketed model and a jacketed version for temperature control.

FlexCell™ Critical Pitting Temperature Cell Kit

The FlexCell, used to determine the Critical Pitting Temperature, is designed to counteract a problem that plagues most other flat sample designs -- crevice corrosion around the specimen seal. The cell utilizes a flooded gasket seal design to inhibit crevice corrosion between the sample and its holder.
ParaCell™ Kit for Flat Specimens

The Paracell Electrochemical Cell Kit is designed for convenient mounting of a wide variety of flat samples. The design of the ParaCell places the Working Electrode and either a graphite Counter Electrode or a second working electrode in an opposed geometry.

PTC1™ Paint Test Cell

The PTC1 Paint Test Cell is a low-cost sample cell for electrochemical testing of coated samples. The PTC1 can also be used to test bare metal samples using PortHoles Electrochemical Sample Masks.
PortHoles Electrochemical Sample Masks

PortHoles Electrochemical Sample Masks define a known area of the sample surface for electrochemical testing: 1, 3, or 10 cm squared. They also serve to reduce crevice corrosion when samples are sealed to a cell with an O-ring, as with Gamry's ParaCell and PTC1.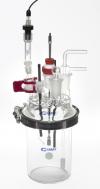 MultiPort™ Corrosion Cell Kit
The MultiPort Corrosion Cell is a one-liter cell that is designed to maximize flexibility. Its unique two-piece design can accommodate a wide range of sample geometries and makes it easy to clean. The cell top has seven access ports and is available in both a non-jacketed model and a jacketed version for temperature control.