Interface 1010 E
The Interface 1010E
TM 
is an updated version of our extremely popular Interface 1000E. We've extended EIS to 2 MHz and added temperature monitoring. It is a full-featured potentiostat capable of performing all techniques, including electrochemical impedance spectroscopy. Key features include:
Max Applied Current - ±1 A
Maximum Applied Potential - ±12 V
EIS 10 μHz - 2 MHz
For applications including:
Product Category: Potentiostats
Industry: Electrochemistry
Supplier: Gamry
Description
Interface 1010E Potentiostat
If you're looking for a full-featured potentiostat capable of performing all techniques, including electrochemical impedance spectroscopy, for applications such as physical electrochemistry, electrochemical corrosion, battery testing, fuel cell testing, dye solar cell testing, and sensor development, then the Interface 1010E is the right potentiostat for you.
Electrochemical Impedance Spectroscopy
Gamry provides Accuracy Contour Plots for every one of our potentisotats that is EIS-capable.  The accuracy contour plot provides a detailed look at the performance you can expect from your potentiostat in real-world situations. The results include the cell cable.  Accuracy contour plots are important because they let you compare the performance of potentiostats from different manufacturers to ensure you are getting the best possible measurement.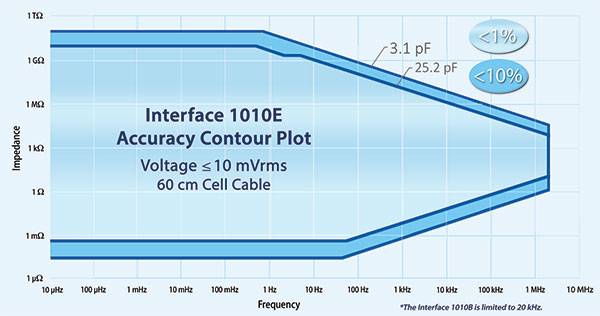 Flexible Configurations
The Interface 1010E potentiostat can be configured as a single-channel potentiostat, bipotentiostat, or multichannel-potentiostat.  Gamry provides you with the flexibility you need to get more done.
Need less capabilities?  See the Interface 1010B
Below are additional details regarding the capabilities of the Interface 1010E potentiostat. Each bullet point contains a list of the type of techniques available for the potentiostat to run.
Other details
2, 3, and 4 electrode measurements
Electrical Isolation

Floating instrument: use with autoclaves, mechanical stress apparatus, or pipeline probes.

Portable

Size of a chemistry textbook, weighing only 3 kgs (6.6 lbs). Easy USB 2.0 connection to a Windows computer.

Built-In EIS

On-board DDS to perform EIS from 10 µHz to 2 MHz.

DSP (Digital Signal Processing) Mode

Oversamples for improved signal-to-noise and accurate capacitance measurements.

Current Interrupt iR Compensation

Gamry potentiostats and their controlling software use control loop algorithms to accurately measure and correct for uncompensated resistance.

Auxiliary I/O

Control additional equipment via additional I/O interfaces: external signal input, analog voltage output, analog current output, and digital I/O connector.

Warranty

Protected by 2-year factory service warranty.
Specifications
SYSTEM

Potentiostat
Yes
Galvanostat
Yes
Zero Resistance Ammeter
Yes
Floating (Isolated from Earth Ground)
Yes
Cell Connections
2, 3, or 4
Maximum Current
±1 A
Current Ranges
9 (10 nA - 1 A)
Current Ranges
(including internal gain)
11
Minimum Current Resolution
3.3 fA
Maximum Applied Potential
±12 V
Rise Time
<1 μs
Minimum Time Base
10 μs
Noise and Ripple
<20 μV 

rms

Weight
2.4 kg
Dimensions
24 (W) x 6 (H) x 27 (D)

CONTROL AMPLIFIER

Compliance Voltage
±20 V (@ 1A)
Output Current
>±1 A
Speed Settings
5
Unity Gain Bandwidth
980, 260, 40, 4, 0.4 kHz

EIS MEASUREMENT

EIS
10 μHz - 2 MHz
EIS Accuracy
See Accuracy
Contour Plot
AC Amplitude
2.33 V maximum
17.8 μV minimum

ELECTROMETER

Input Impedance
>1012 Ω
Input Current (typical)
<20 pA
Bandwidth
>10 MHz
CMRR
>80 dB (10 kHz)
>60 dB (1 MHz)

POTENTIAL

Applied Accuracy
   ±1 mV ±0.2% of setting
Applied Resolution
200 μV, 50 μV, 12.5 μV/bit
Measured Accuracy
±1 mV ±0.3% of reading
Measured Resolution
1 μV, 10 μV, 100 μV, 400 μV/bit

CURRENT

Applied Accuracy
   ±5 pA ±0.3% of range
Applied Resolution
0.0033% full-scale/bit

MEASURED CURRENT

Measured Accuracy
±5 pA ±0.3% of range
Measured Resolution
0.0033% full-scale/bit
Bandwidth
>10 MHz (1A - 100 μA)
>1.5 MHz (10 μA)
>0.15 MHz (1 μA)
Videos
https://www.youtube.com/watch?v=Rh5wWN_3gN4#action=share
Brochures
Testimonials
Good and reliable machine for Nickel test
Organization: optoplast Manufacturing Co Ltd
Application Area: EIS for coating test Nickel release test
I get good results with this machine
Organization: University of Nebraska-Lincoln
Application Area: Oxidative reduction reaction measurements
"I love the Gamry instrument because it is easy to use but I cannot figure out how to connect it with the pine research instrument as in my lab"
Great product
Organization: Kansas State University
Application Area: Electrochemistry materials
"Easy to use, tutorials very helpful, and high quality data"
Great results, excellent service
Organization: western michigan university
Application Area: Lithium batteries
"Compared with its price, this equipment has very high value with necessary functions. It is easy to install and use it. however, I hope that EIS data should also included in the data bank."
Awesome, can't work without this instrument.
Organization: Yue
Application Area: PEM fuel cell
"The automation of this product is very high, it is easy to use, simple to operate, and accurate measurement. The product has stable performance, good reproducible, convenient installation and easy to carry."
In general, good results and functionality.
Organization: Martinez
Application Area: Corrosion testing of materials for bachelor degree and postgraduate students.
"The service of the interface is good for us, we obtained good results in time, and we can working with different kind of samples, like materials and size."
This instrument has dramatically improved how we do R&D in corrosion testing
Organization: Reynolds
Application Area: Corrosion inhibition testing
"The Gamry Interface 1000E Potentiostat has changed the way we do R&D in the area of corrosion testing. Decreased timescales, increased productivity, more intuitive studies and a wider portfolio of services to our customers. The instrument and software are easy to use and the training and advice/support from the distributor high quality."
Easy to use instrument that more than meets my needs
Organization: Laney
Application Area: EIS testing of organic coatings
"While it is not the ideal choice in the Gamry lineup for the application, it seems to be performing well. I have very limited experience in this type of testing and the Interface and software make it fairly easy to perform. I have not needed much support yet"
Great instruments! My research relies on Gamry potentiostat!
Organization: Feng
Application Area: Electrocatalysis
"I am a faculty member in a public research university. The Gamry potentiostat I purchased is fantastic! It is easy to start and operate, and the results we obtained using Gamry potentiostat is of better quality than other potentiostats. We also called Gamry technical support for some help. The communication is very effective and helpful, providing us information about some new functions and capabilities of the instrument. Overall, I really like the Gamry instrument I purchased and it is one of the greatest tools for my scientific research."
Great product with great results. Thanks to Gamry.
Organization: Patil
Application Area: Analyze ionic conductivity of glasses and ceramics
"It is really nice instrument with easy use. Results are reproducible as long as environment and conditions of the sample keep constant."
Very rugged instrument have not had any problems since it was installed.
Organization: Brendekce
Application Area: Coating analysis
"Does a great job of doing the analysis that we need done in the lab."
Great to use this instrument
Organization: Ingole
Application Area: Electrochemical sensing and kinetic study applications
"It is very compact thus require little space and has user friendly interface."
Very reliable and accurate results for my application
Organization: Sahney
Application Area: Analysis of analyte (substrate) and sensor interaction for the development of biosensors
"The system has great features for EIS measurement, user friendly operation and precise measurement which is adding positive impact on my research and its quality. "
I am glad of having this equipment to perform Electrochemistry and Corrosion studies
Organization: Maya
Application Area: Electrochemistry and Corrosion Studies
"This equipment is reliable to study the electrochemical properties of metallic materials, the software is friendly and you will not have troubles to compare the data due to and interface included with the purchase. "
Very happy with this instrument!
Organization: Riha
Application Area: Analysis of materials for solar fuels
"The potentiostat is easy to use and the software is very user-friendly. The choice of experimental methods is ideal for the types of measurements my research requires."
Great equipment for corrosion
Organization: Raza
Application Area: corrosion, electochemistry
"Excellent results, easy to use, reproducible results "
too early to judge, but seems to be good
Organization: Salamatinia
Application Area: solid oxide fuel cells and corrosion
"The sales people are the highlight of this product. Very knowledgeable and helpful staff "
the best part is the that the instrument is really portable, much better than the old reference 600 I had used before.
Organization: Fan
Application Area: OCP, LPR, EIS,PDP
"I can easily install the software and calibrate the instrument according to the menu. Dan and Chris are so helpful and patient to answer all my questions. This instrument definitely highlights the value for money since it has all the functions for less than $10k. "
Lightweight and supply great results!
Organization: Kaplan
Application Area: Fundamental electrochemical and spectro-electrochemical characterization for energy applications
"The potentiostat and software are easy to use, it is lightweight and therefore portable in the lab. The results are reproducible and the data is easy to handle and analyze with the analyst software feature."
Worth the money.
Organization: Hungarian Academy of Sciences, Research Center for Natural Sciences, Institute of Materials and Environmental Chemistry
Application Area: In connection with EQCM, electrochemistry, EC sensors
"Very compact, mobile, easy to use, stable, instrument"