LY-9610 Imaging Unit
The imaging unit allows real-time observation, particle image acquisition, and assessment of the particles in the wet circulation system. It is small and integrated in the main unit without increasing instrument footprint!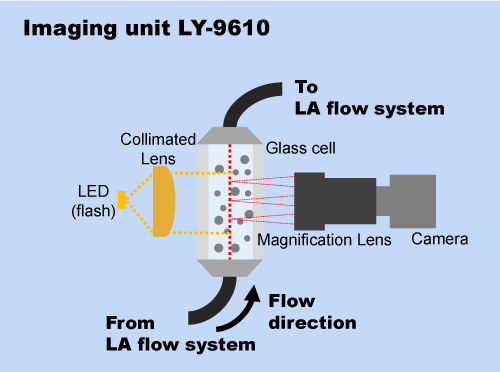 Features
Detect and count even with trace amounts of unusual particles (Contaminants, large particles and aggregated particles)
Detect bubbles in wet circulation system.
Improved understanding of sample dispersion (effect of stirring, sonication, addition of surfactants, stabilizers, etc.)
Particle shape analysis* (Optional Advanced Software)
Functions
Image acquisition and particle detection.
Automatic detection of large particles.
Automatic detection of bubbles.
Real time trend graph and histogram of equivalent circular diameter.
Histogram of shape distribution (aspect ratio, roundness, length, width) with optional advanced software.